Published:
10 juni 2011 |
Category:
Development
|
Labels:
growl, Mac, notifier, objective-c, pingdom, sparkle
|
Short url »
|
2 Comments »
English version below

Som jag skrev i tidigare inlägg är jag i full gång med att lära mig Cocoa och Objective-C. Första programmet som är värt att släppa är Pingdom Notifier for Mac (och gjordes på ungefär sex timmar). Från min sida är det ett experiment där jag testar hur det är att arbeta med Growl, Apple Keychain, REST och Sparkle (automatisk uppdatering). Buggar och förslag på förbättringar får ni gärna skicka till mig! Som sagt, testa gärna programmet och om ni inte har något konto hos Pingdom går det att skaffa ett gratiskonto på deras hemsida.
Läs mer och ladda hem Pingdom Notifier for Mac här.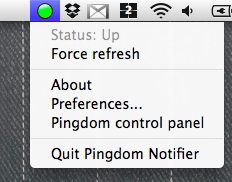 English version
As I wrote in previous posts, I am in the process of learning Cocoa and Objective-C. The first program that is worth releasing is Pingdom Notifier for Mac. From my side it is an experiment where I test how it is to work with Growl, Apple Keychain, REST and Sparkle (automatic updater). Feel free to send me bug reports and suggestions! That said, please try the program and if you do not have an account at Pingdom is possible to obtain a free account on their website.
Read more and download Pingdom Notifier for Mac here.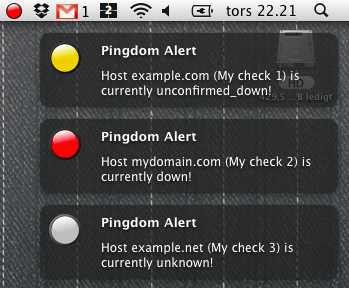 ---